Our Sustainability Policy
Great Western Ink in partnership with Sun Chemical, is constantly working to promote sustainable solutions. Our approach to sustainability guides the way we develop, manufacture, and distribute products, as well as how we work with our customers and suppliers.
Working with industry leaders, we are reducing global CO2 emissions by increasing the use of bio-renewable and recyclable materials while promoting the value of these activities throughout the supply chain. Our emphasis on sustainability continues to be fundamental to our innovation and product development and is gaining broad support from our customers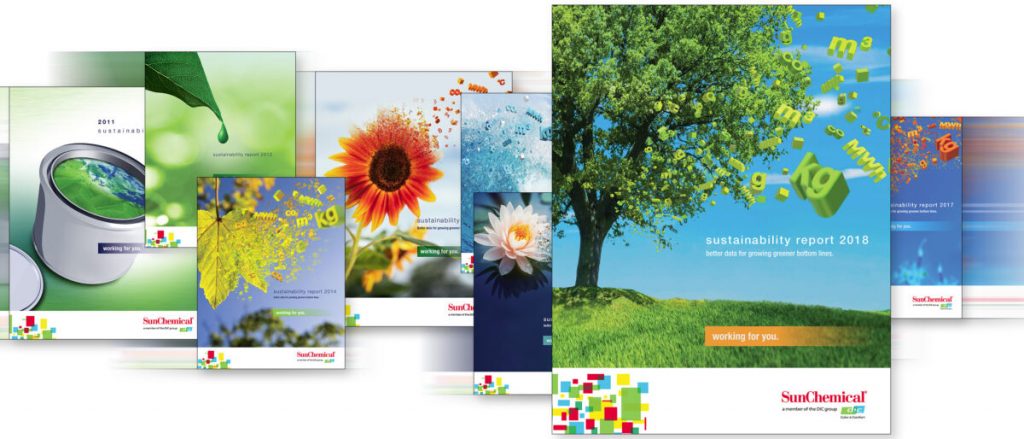 Great Western Ink and Sun Chemical take a phased approach to their sustainability efforts and use a roadmap to improve the eco-efficiency of their processes and products. Every year they publish a sustainability report which shows their progress in achieving their eco-efficiency goals and helps them establish actions to improve, recheck, and remeasure. We invite you to request a copy of our latest Sustainability Report.
Our Sustainability Policy
GWI in partnership with Sun Chemical's sustainability policy stresses its responsibility to raise awareness about environmental issues in the industries it serves. Product stewardship and risk management are also important components of the policy with a commitment to take an analytical-based approach to its efforts.
Providing customers with enhanced sustainability of their processes and end products is the ultimate goal of GWI's sustainability policy. To reach that goal, Great Western Ink will use rigorous development processes and analytical tools to evaluate and improve the eco-efficiency of both its manufacturing procedures and products.
This data-driven approach in the policy means Great Western Ink will be able to set improvement targets for its processes on energy and water consumption, greenhouse gas emissions, and solid waste emissions as well as develop products with a structured approach that includes risk management and eco-efficiency improvements as criteria.
Great Western Ink reports this data and its ongoing progress in achieving its improvement targets annually in its sustainability reports. Request your copy of our latest Sustainability Report.
Aligning Our Goals with the United Nations
Recognizing that sustainability is a global issue, at Great Western Ink we have aligned our sustainability goals with that of the United Nations and its "Transforming Our World: the 2030 Agenda for Sustainable Development," a plan of action for people, planet and prosperity. Learn more about how our sustainable goals align with the United Nations.
Our Offerings
Great Western Ink takes leadership in the industry in providing sustainable product solutions and services that help customers achieve their individual goals. Our robust research and development team has created scores of products and services that have helped customers and the industry at large enhance sustainability. See some examples of our sustainable products and services.
Regulatory Leadership
Great Western Ink and Sun Chemical are leaderd in regulatory, compliance, and sustainability issues and works closely with customers to help them comply with the strict standards required by brand owners and regulations. Backed by a significant investment in research and development, they places a priority in the care required in procurement and the selection of raw materials used to formulate our products.
Non-compliance to the latest regulations could come with severe consequences, namely the threat of a brand's reputation and more seriously, the health of consumers.
Resources
From sustainability reports to regulatory newsletters and a comprehensive library of white papers, GWI and Sun Chemical have developed a wide range of downloadable content about the company's various sustainability initiatives.
Associations and 3rd Party Certifications